Hijacked by Fire by Eduardo Cavazos Garza
Posted on August 13, 2014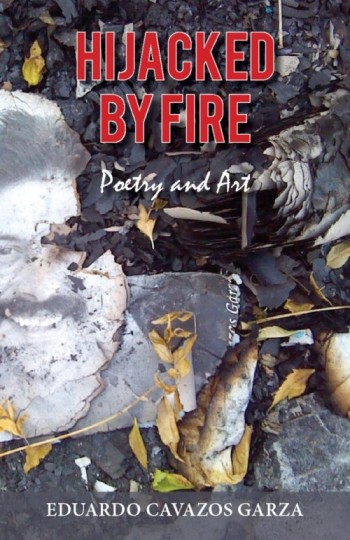 Only fifty copies of HIJACKED BY FIRE were printed, each numbered and signed by the author.
Hijacked by Fire is a treasure chest of human survival—and of the creation of beauty from bottle caps and Cup o' Noodle lids, from the scars of the barrios of South Texas and the battlefields of the VietNam War, from the cantos of the Chicano Movement, the Yanaguana sweat lodges, and the Jazz Poets Society. We are left humbled by the power of the human spirit, which cannot be hijacked by any fire more powerful than its own passions.—Carmen Tafolla
If your house burned down, what would you do? Early this Memorial Day, Eduardo C. Garza woke up to find his home on the West Side in flames. A poet, multi-discipline artist and performer, Garza is known to many as the irrepressible mainstay of the Jazz Poets of San Antonio. He saved many of his original notebooks, some paintings, and fire-scorched sketchbooks from the blaze, but lost forever are his piano and many treasures, including his father's drum set and a collection of rare indigenous flutes. In the wake of the tragedy, Garza is beset with many expenses.
Donate in any amount to the following:
Eduardo Garza
San Antonio Credit Union Account # 85330012 Routing # 314088284
Thank you for your support.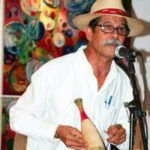 Eduardo Cavazos Garza, founder of the Jazz Poets of San Antonio and longtime Chicano activist, artist, poet, musician, actor, drum-maker, mask-carver and Native American spiritual practitioner, was born in Kingsville, Texas in 1947 and moved to San Antonio in 1974. He served in VietNam from August 1969 to August 1970 and returned to make use of the GI Bill by studying Art at the University of Texas–San Antonio. He has acted in more than seven films, including The Newton Boys, The Bookie, Even Hand and several made-for-TV dramas, plus countless television and radio commercials. He has also participated in scores of sweat lodges, is active in many indigenous ceremonies, and is an outstanding performance poet. Garza has created hundreds of poems and paintings and thousands of drawings, in addition to many wooden faces carved from tree trunks (Cara de Mezquite, Cara de Pera, Cara de Encino…) some of which were hijacked by fire.